26 RHADC sailors joined others from RBYC, Sandys Boat Club, The Endeavour Program and overseas, in the BODA Nationals this weekend. Tough conditions and there were plenty of smiles (mostly) from the sailors.
RBYC did a fine job of hosting, and great to see over 120 sailors in the harbour and Great Sound.
Team RHADiCal had a strong showing in the Green Fleet – the future is looking bright!
Kipling Rossouw was 2nd overall and top Bermuda Green Fleet Sailor. Jack Butterworth 3rd overall (2nd from Bermuda), Ava Rosser 5th overall and 1st Girl.
Sergio de Frias won the mid fleet prize (31st overall) and Sam Redburn was the youngest competitor in both fleets!
Full Green Fleet results: click here
In the Championship fleet we had a young team of 11 sailors.
Aiden Lopes was RHADC's top finisher (26th overall ) and Harlan Watson-Brown is the new Junior National Champion (U12) !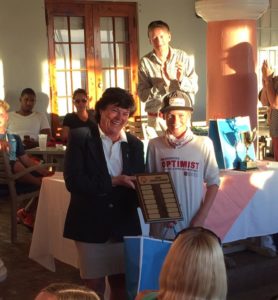 Full Championship Fleet results: click here
More Prizegiving photos: Bermuda National Optimist Championships 2017 Facebook page
Sailing photos: RHADC Facebook Page
GO TEAM RHADICAL!!!